Deltaville Aerial View
Deltaville Masterplan+Economic Relations
Rukhsar Zahid: Milky Way Dairy industries plant.
Bo Kei Leung: Oyster Farm Studies
Jadene Aguilar: Salted Edge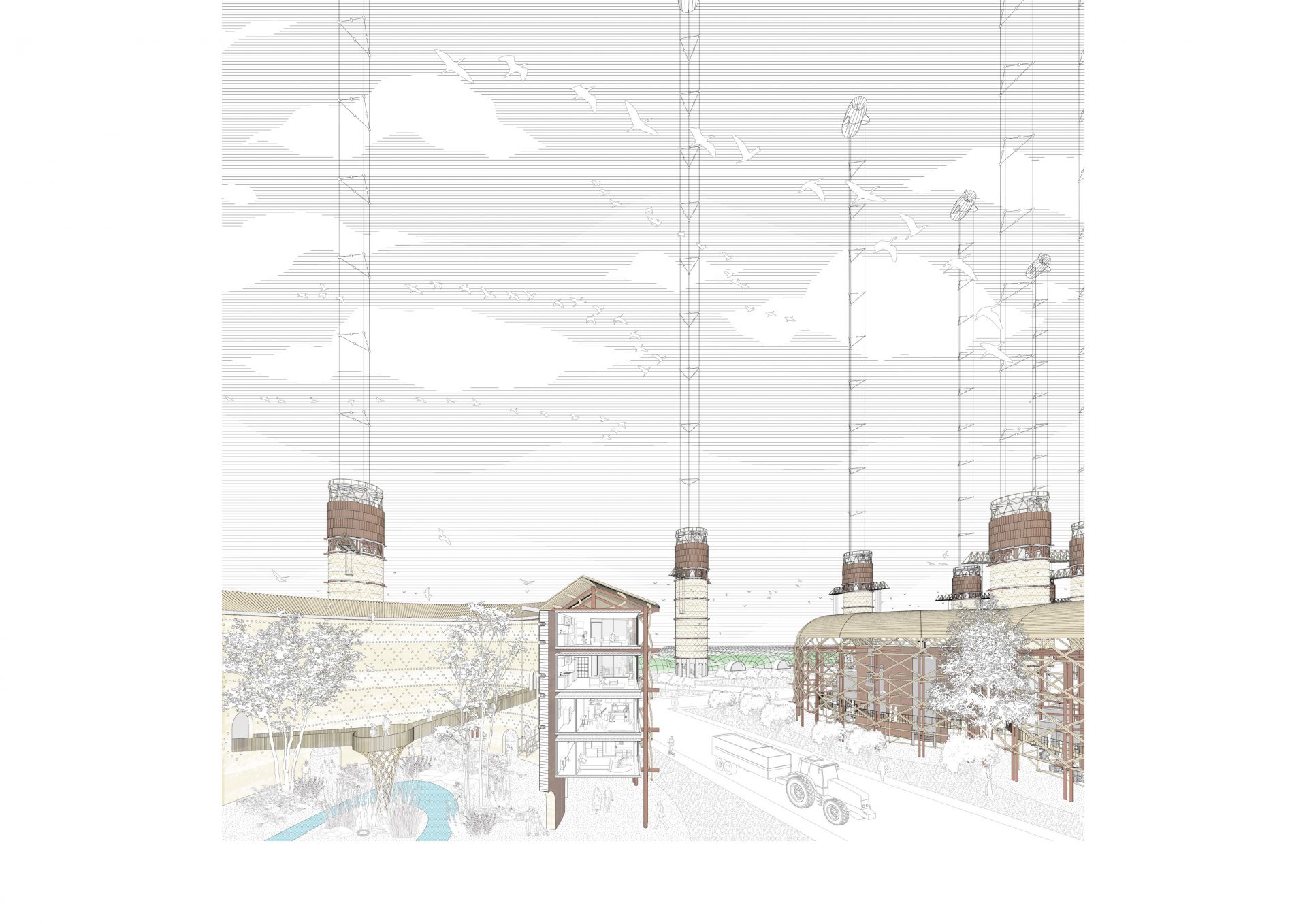 Xinran Li: Soya+Wind+Guano Farm
Fatemeh Tajdivand: Sugar Refinery+Farm
Pete Runham: Ex/Crete (sewage farm, brick factory, housing and greenhouses).
DS 12
---
Guest Critics
Roudaina Alkhani Pierre d'Avoine
Alex deRijke Anthony Boulanger Corinna Dean
Reenie Elliott Nasser Golzari
Frances Holliss Jane McAllister
Alicia Pivaro Alex Somerville
Mireille Tchapi
Andrew Yau
Read More...
---
Thanks
Many Thanks to Paul Marsh and co at Thames Enterprise Park, Trevor Hutchinson and co at London Gateway, to Kirsty et al at Whitstable Boat Trips and to Rosie's Minibus Service.
Read More...
Deltaville: This year we imagined and designed alternative programmes for the decommissioned oil refinery at Coryton. It is approximately 5 square kilometres of concrete, pipes and fuel tanks. It sits on the north side of the Thames estuary between Canvey Island, the London Gateway container terminal and some protected areas of ecological importance and sensitivity. What possibilities are there for the spaces and structures left behind as we move our economy over to new sustainable sources of energy and materials? What kinds of new relationships might emerge between industry, environment and society in places such as this? Our brief asked everyone in the studio to identify a different site within the refinery site and to develop a distinct programme for it. Each project includes different programmes of agriculture, industry and housing. While everyone's individual projects are distinct, relations between them and with the neighbourhood are co-ordinated too. So together they form a hybrid cluster of interacting projects within a group plan. It is the result of individual imaginations, a lot of creative interactions, group thinking and negotiation with the existing infrastructure. We went on a series of day trips to the refinery, the container port, to nature reserves, to Canvey Island and to the Red Sands Forts. These raised profound questions about global trade and industry, our use of the seas and coastal settlement form.
Read More...