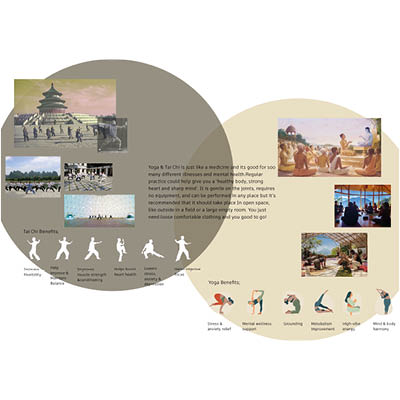 This page gives an open and clear understanding of what equipment is needed, what it's good for, what places it can be performed , what kind of clothing you need etc. for those two activities that are going to take a place in this space.
This page shows the ground and the first floor's plan of the building, including rough sketching of the interior with coloured boxes to show private areas , public space/studios and a sharing space. Also most importantly it shows what material I decided to use in what parts of the interior.
This detailed drawing shows what kind of materials and joints I will need to build this extraordinary structure that takes place in outdoor and be used as a studio.
This 1:50 model of my project shows where my activities are going to take a place and in what parts of the building and shows how I used only curved forms for the interior walls to separate the spaces.
YOGA & TAI CHI
by Asya tirak
The aim of this project is to design a space for people with many different disabilities and those who struggle with mental health. This place provides calm and open-spaced studios that are made out of clay and stone curved forms to make this space to feel more specious and suitable for yoga & tai chi. Yoga & tai chi is just like a medicine, regular practice could help give you a " healthy body, strong mind and sharp mind". Inspired by the work of AAU Anastas project called "stone matters", Yoga & Tai Chi includes 3 studios one of them takes place outdoor connected to the biggest studio that takes place on the ground floor the sealing goes up to the second floor that's where the last studio is. This space also includes necessary facilities and a private office that are located on the first and second floor of the Old Spitalfields.
//if(!empty($row['PersonalWebsite'])) ?>