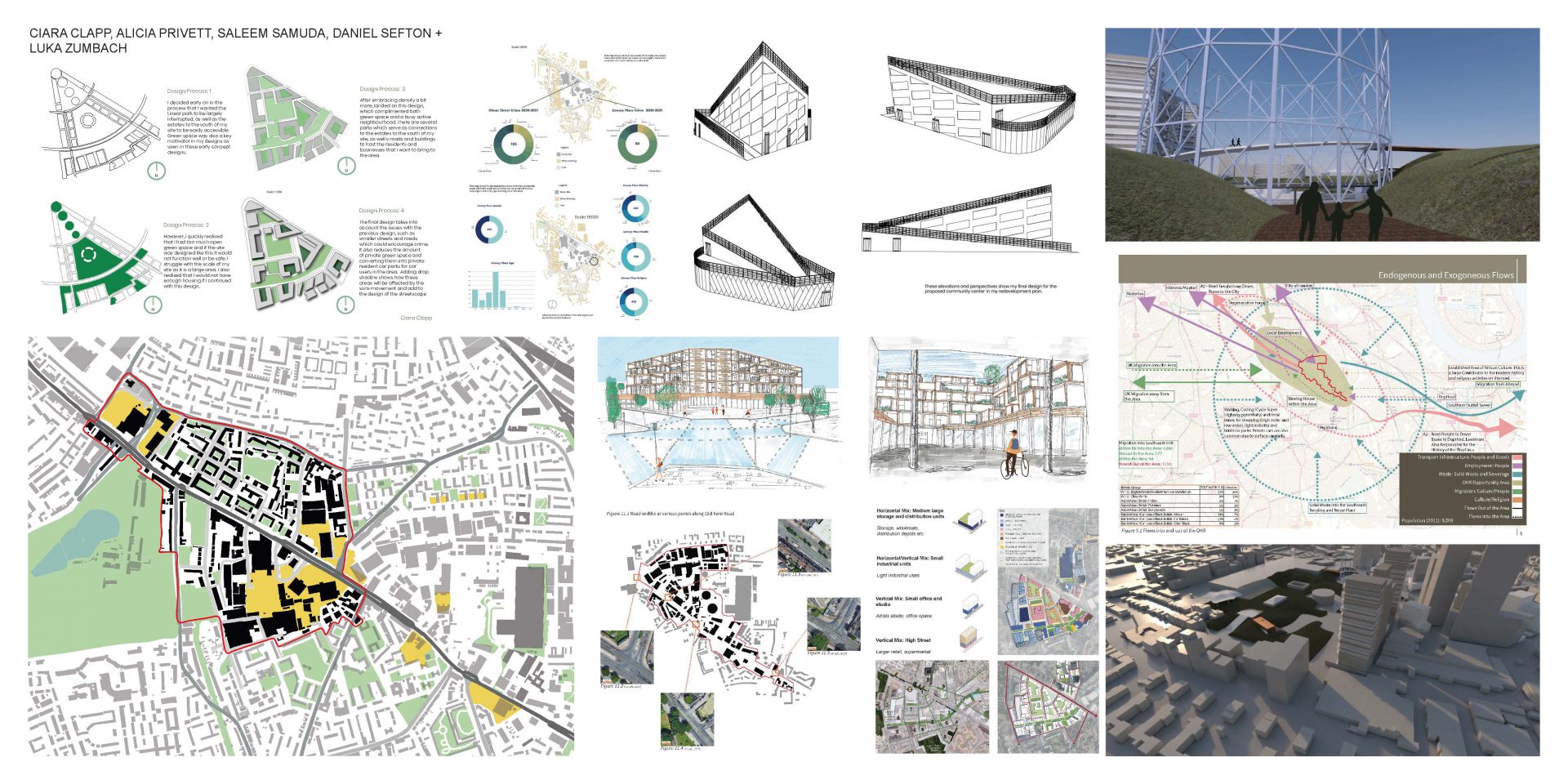 Sample of Students' Projects
Year 3 Studio - Urban Regeneration in the Mega City
Tutors
David Mathewson
d.mathewson@westminster.ac.uk
David Mathewson is the MA Urban Design Course Leader, a Senior Lecturer, and has been teaching at Westminster since 2012. He studied at the AA, the University of Texas and Westminster, and has more than 20 years of urban design and architecture practice experience in the UK, USA, Southeast Asia, Africa, and the Middle East.
Read More...
---
Elisa Engel
e.engel@westminster.ac.uk
Elisa Engel is co-founder and principal at Citizen Architects. She currently teaches at both Westminster and Linz University of Art in Austria. She studied architecture at Queen's University Belfast, the Bartlett and Oxford Brookes.
Read More...
---
David Seeks
seexd@westminster.ac.uk
David Seex is a Part Time Visiting Lecturer in Urban Design and Planning, was previously a Senior Lecturer at Westminster for over 30 years.
Read More...
---
Guest Critics
Colin Wilson
Head of Regeneration for the Old Kent Road Opportunity Area at Southwark Council; Tim Cutts
Senior Regeneration Manager at Southwark Council; Isabel McCagg
Urban Design Associate at Fielden Mawson Architects; Karan Bakre
Senior Urban Designer at Fletcher Priest Architects; Simona Palmieri
Senior Urban Designer at AECOM.
Read More...
---
Acknowledgements
The London Borough of Southwark and the Mayor of London for their input into the studio project. To Raluca Rimboaca, MArch student and studio PAL, for her help with crits, teaching & facilitating workshops.
Read More...
This year's project focused on one of GLA's Opportunity Areas within Southwark, inner London's, across the River Thames. The area dates back to pre-Roman times when the thoroughfare linked London to Southeast England. The area along the road was rural until the 19th century when a number of landholdings became industrial sites, including the Metropolitan Gas Works, the old Surrey Canal of 1811, and others. The area experienced rapid transformation during the pre- and post-war periods due to slum clearances and bombing, resulting in the development of some of the largest social housing estates in Europe. It saw continued industrial, & warehouse development, along with big-box retail facilities from the 1980s. The area is now the focus of development speculation. The Bakerloo Line is to be extended along the length of Old Kent Road with 2-3 stations. In response, the GLA established the Old Kent Road Opportunity Area OKR OA, followed by Southwark's Area Action Plan (AAP). Covering over 114ha with 10,000 new jobs and 20,000 new homes, (7,000 affordable tenure), it will become the capital's latest high-density cluster with some tall buildings. In Term 1 the students worked in groups to undertake high-level urban design and contextual spatial, demographic and socio-economic analysis while proposing strategic plans for large scale development parcels within the opportunity area. During Term 2 they worked on smaller sites to develop individual architectural development proposals fo
Read More...